David Rathgeber's
How to Refer a Friend
(a special caution for Corporate Transferees)

Here are some ideas for successfully referring a friend:
Email my local market report and invite them to sign up.

Offer them copies of my home buying and home selling books.

Suggest that they visit this web site which includes...
- A special link to all homes currently for sale in our area
- A list of frequently asked questions
- Testimonials from dozens of happy clients
- The complete text of my real estate books
- Photos from many client appreciation events, and...
- Much more: See the links on the left.

Have them added to the list for my newsletter sent by mail.
It is often best to ask if you can have me contact your friend rather than leave it to the fates or to their memory. Always invite them to visit this web site www.davidr.net as an informal means of introduction. My "Market Report" page might convince some that I am in tune with the local real estate market and the "Client Appreciation Events" page might prove that clients really are indistinguishable from friends. Most importantly, tell them of your experience and what you think they will appreciate.

Tell them that I am your friend who is an experienced and successful real estate agent. This will let them know that they should expect more than expert, professional service. They can expect to be treated as a friend.

It Should Be Fun:

Friends of yours are friends of mine. It is best to meet them months before they will be buying or selling a home. You are in the unique position of being able to help them, and to help me, and we can all have fun at the same time. I always enjoy seeing friends at the Middleburg races, on the Bay, and at other special events. The next time we're getting together for fun, please consider whether you have friends who should be included. Feel free to ask if you can bring them along.

Special thanks to those of you who have included me in your guest list for social events. As you know, I am not one to initiate real estate discussions at fun events, but can be coaxed into sharing my opinion on occasion. But I want to be their friend first, their agent later.

I want your friends to thank you for putting them in touch with me. As you probably know, I cover a wide area from my Northern Virginia base. Again, thanks to all of you who continue to mention my name. Personal referrals are the life-blood of my business. With very best regards as always, and hoping to remain...

Your Friend in Real Estate,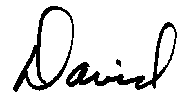 * * * * * * *
Contact David now...




- or -
703 434 0773
YFiRE
Your Friend in Real Estate, LLC
Arlington, Virginia, USA





* Copyright © David Rathgeber *
* * All rights reserved. * *
* * * 2017 * * *